When my daughter was born, I had the wonderful opportunity of making some fabulous friends online, who also had children the same month. These friends live all over the world and have many different backgrounds and interests. One of them was Captain Fussybucket's mom. She started a blog and recently introduced me to another wonderful blogger, The Peaceful Housewife. Now The Peaceful Housewife just released an ebook called 'Natural Household Cleaning Products'. So what better product to review and offer for a giveaway? I'll do the product review first. Please read the rules for the giveaway before entering.
Product Review: 'Natural Household Cleaner Recipes' ebook
As a mom with two small kids and two annoying cats, it's important to have cleaners that both work well and are safe for my family. Being able to make them myself with products around the house is a huge bonus since it offers a huge savings. The Peaceful Housewife's ebook is fantastic. She offers recipes for laundry products, household products, even a makeup brush cleaner and pest spray. So I decided to pick a recipe and try it out, and I chose the carpet cleaner. Now you all know we recently bought a house. And this house came with horrible, stained, faded and PINK carpets. K and I like carpet since our kids are little and it's better for crawling, falling, etc. So we've always planned on just keeping this floor and installing hardwood once the kids are a bit older. But that doesn't mean that I don't care about the way they look. So I chose a stain just outside the kitchen and decided to give it a go. I'm pretty sure this stain was not caused by our cats and was here when we moved in. So it's been there for at least 6 months.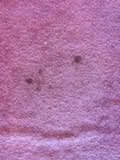 I used the carpet cleaner as directed in the ebook and the stains came right out. It was so easy, using a top secret combination of baking soda, vinegar and water. These products are already in my pantry and are super safe for everyone. Sorry I can't post the recipe, you guys gotta buy the book! It's only $3 through The Peaceful Housewife.
OR....enter my giveaway!
So here are the rules. Read them carefully, this is my first giveaway and I want to make it really easy!
This giveaway is open to: EVERYONE!
Giveaway open until: Monday August 22nd. I will draw a winner at 9am PST. So you have 10 days to enter.
Mandatory Entry:
Comment on this post telling me what kind of natural cleaning product you would most like to try out. Make sure you include your email address so I have a way to contact you if you win!
Additional Entries:
1. Follow my blog!
2. Like The (not so) Clean Mommy on Facebook
3, Follow The Peaceful Housewife (http://thepeacefulhousewife.com/)
4. Like The Peaceful Housewife on Facebook
Each time you make an additional entry, make sure you comment below again telling me that you completed those requirements. You could receive up to 5 entries. I have TWO copies available to giveaway so spread the word.